WORDS OF WELCOME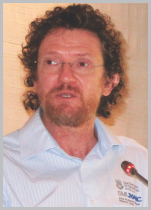 As Chair of Comminution Peru 2017 Conference, I am pleased to extend a warm invitation to mining and mineral processing Operators, Managers and Technical Experts to join us in Lima, Peru to update us on the latest advances in comminution practice in the mining industry. Peru is establishing a position of global importance in the world minerals supply, ranking as the third largest supplier of copper and in the top-5 producers of silver, lead, zinc, tin and molybdenum and growing with new projects and expansions. I view Peru as not just a major minerals producer but also driving the innovative advancement of mineral processing technology.
The massive low-grade ore-bodies that are now being developed demand much larger capacity for ore processing and removal of overburden than previously catered for in our process designs. At the heart of this is the corresponding increase in energy and equipment intensive comminution processes needed to liberate the valuable minerals. Improving the efficiency of the comminution circuit can change the economics of a mine, in
lower capital investment with leaner equipment, reduced operating costs of power and consumables, and most importantly in increased recovery through effective size reduction. There are still opportunities for cost-saving improvements that can be made to operations, plus significant steps in productivity through innovative thinking and new processes or equipment. The most significant advances will likely arise from linking mining, bulk ore handling and processing changes into processing transformation. I believe that Peru has the spirit to motivate major changes so as to accelerate development and move up the global minerals market.
We encourage suppliers and consultants from around the world to join us in sharing your experiences with a focus on application to the processing needs in Peru and the wider region. We wish this to be a vibrant conference of new ideas, novel equipment and processes, and routes to process improvement with current equipment – a future view grounded in reality. We call for papers and presentations that will share these ideas and bring our expertise to the fore in this worthwhile forum.
Dr. MALCOLM POWELL
Chairman of Comminution 2017.
Earned his doctorate in the University of Cape town. Nowadays, he is Director and Professor in sustainable comminution in JKMRC of the Univerisity of Queensland. He is a frequent guest at major world conferences making presentations on applied research in flexible circuits, modeling and control in grinding and is known for its innumerable consultants and services to the mining industry.